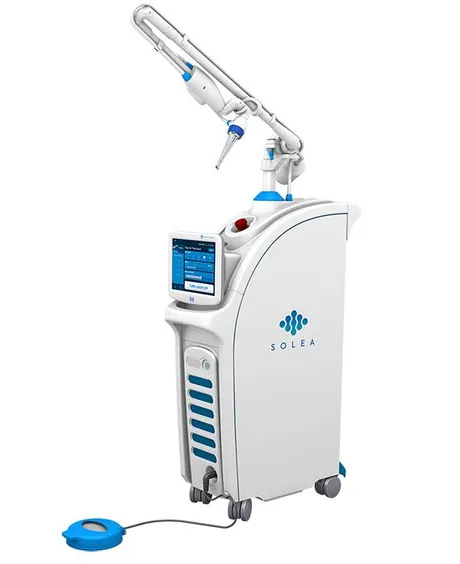 At Wolfy Dental Group, we treat our guests (patients) like the complex people they are, and not just as a "set of teeth and gums." Led by Dr. Sandra Vukovic, our team prioritizes exceptional care for individuals and families from Wallingford, New Haven, Hamden, Cheshire, and throughout central and southern Connecticut. We are supported in this mission by equally exceptional technologies.
Notably, our use of laser dentistry minimizes or eliminates many sources of dental anxiety and fear. The Solea® laser system provides a non-invasive, blood- and suture-free, and generally painless way to complete many common dental procedures. Dr. Vukovic may also recommend Solea® Sleep as a way to quickly, safely, conservatively, and affordably relieve snoring. So, you (and your partner and family!) can get back to enjoying the restorative sleep that contributes to overall health and well-being once again.
THE TROUBLE WITH SNORING
The grating sound that we recognize as snoring is actually a vibration. Some 80% of individuals who snore are "palatal snorers." As snorers breathe during sleep, the air moves past overly relaxed tissues in the soft palate. The vibration produces a characteristic flutter sound that is associated with disruptive snoring. The most common type of snoring, palatal snoring, responds well to Solea® Sleep.
WHAT TO EXPECT FROM SOLEA® SLEEP
If Dr. Vukovic determines that you are a great candidate for Solea® Sleep, the process starts with applying a topical anesthetic spray, which minimizes potential gagging or discomfort. From there, the Solea® laser is directed toward the tissues in the soft palate. The energy produced by the laser beam gently and quickly tightens the collagen fibers responsible for firmness. The soft palate is tightened, helping to open up the airway. As air rushes past, it doesn't vibrate against the newly-tighter surrounding tissues, and noise is reduced.
Some patients may feel a subtle warming sensation as the laser is applied. Otherwise, treatment is very well-tolerated. Afterward, side effects are usually limited to minor soreness and irritation that subsides within around a day. Results from Solea® Sleep last, on average, for around 12 to 15 months. To maintain better, deeper sleep and the other benefits associated with snoring therapy, we recommend that treatment sessions be scheduled once every year.
Consider the following benefits of Solea® Sleep:
Treatment is fast and can be completed in around five minutes.
It is an affordable alternative to costlier and more time-consuming laser technologies designed to relieve snoring.
It is a conservative alternative to riskier and invasive surgical procedures.
Patients may use their FSA and HSA dollars toward treatment.
Solea® laser technology is not an appropriate treatment for Obstructive Sleep Apnea; however, snoring is a major indicator of undiagnosed sleep apnea. So, it is important to seek proper evaluation from the appropriate professionals. Depending on your needs, Dr. Vukovic may also recommend oral appliance therapy or lifestyle modifications, as everything from how you sleep to what you eat and drink can affect the severity and frequency of snoring.
Do not "sleep" when it comes to treatment for snoring. We encourage you to contact Wolfy Dental Group at (203) 902-3629 to schedule your appointment at our office in Wallingford, CT.