State-of-the-art dental technologies for your comfort and convenience
At Wolfy Dental Group in Wallingford, Connecticut, we know that you have choices when it comes to dental care. We use a caring and compassionate patient-centered approach, catering to each patient's specific needs in our cozy and friendly environment. We want our patients to feel calm and relaxed when they are in our office, which means ensuring both comfort and convenience every time you visit us. One way in which we do this is through the state-of-the-art dental technologies that we have invested in to enhance patient care.
CEREC SAME-DAY RESTORATIONS
Dental crowns are one of the most common restorations placed each year. But the traditional process can be time-consuming and inconvenient, requiring multiple trips to the dentist and "babying" a temporary crown as you wait for your permanent crown to be made. With CEREC dental technology, we can prepare your tooth and place dental restorations in the same visit, saving you time and energy. CEREC uses CAD/CAM technology that translates digital impressions of your teeth into beautiful, natural-looking ceramic restorations (such as dental crowns, inlays, and onlays) that offer greater precision and excellent fit – all in just about two hours.
ITERO DIGITAL SCANNER
If you have ever had traditional putty impressions, you know how uncomfortable and messy they can be. Additionally, they are prone to error, which ultimately causes fit problems and suboptimal outcomes. With the iTero digital scanner, all of these issues are avoided! The iTero scanner uses advanced digital technology to take 3D impressions of your teeth and bite, all with a small, comfortable wand that is mess-free. Using iTero scans, we can precisely plan your Invisalign treatment so you can get great results from the very beginning.
GLO WHITENING
When you feel great about your smile, others take notice. Professional teeth whitening is one of the easiest and fastest ways to take the appearance of your smile to the next level. We use the GLO whitening system that combines light technology with gentle heat and a sensitivity-free hydrogen peroxide gel that brightens teeth up to 12 shades whiter in under one hour. We have chosen the GLO system as our whitening treatment of choice because it offers:
No teeth sensitivity, a common side effect from other whitening systems
Less time in the dental chair to achieve excellent results
A stress-free and comfortable experience for patients
ULTRADENT – THE FASTEST WAY TO WHITER TEETH
While many teeth whitening treatments rely on specialized lights or lasers to "activate" chemical whitening agents, Ultradent relies solely on chemical activation. The Ultradent whitening treatment uses an innovative double-syringe mixing that requires only the patented whitening gel. Applied using a Black Mini tip, the gel is chemically activated at the time of application. The gel's thick viscosity prevents running, and its red color makes for precise and easy placement and removal. The whitening gel is formulated using a high water content, minimizing dehydration and shade relapse, resulting in maximum patient comfort and satisfaction.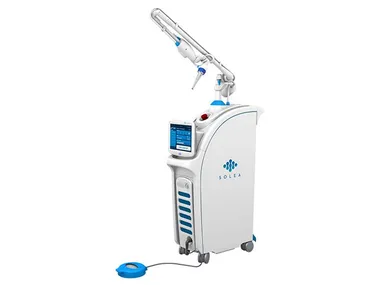 SOLEA LASER TECHNOLOGY
If you, like many patients, fear the pain associated with dentistry but are equally uneasy about anesthesia, we have the solution for you. The Solea laser technology we use at our practice facilitates most surgeries, including soft-tissue surgeries such as cavity prepping, to be performed without any anesthesia and without pain or discomfort. It is mostly blood- and suture-free, and since the technology is non-invasive, it takes little-to-no time to heal. It is fast, precise, and reliable and offers a unique experience and better outcomes for patients. In fact, Solea is the number one all-tissue laser used in dentistry.
SICAT IMPLANT SOFTWARE
Surgical guides in implant placement allow the dentist to virtually plan the accurate placement of a dental implant in a predictable, efficient, and safe manner while increasing accuracy and shortening the patient's chair time. The purpose of the surgical guide is to preview the definitive restoration position and its relationship to adjacent structures (sinus, nearby teeth, and nerves) and perform surgery in the most efficient and precise way. The guide itself doesn't allow an instrument to go in any other direction except the initially planned and chosen position and length.
SURGICAL GUIDES AND ACCURACY REPORTS
Oftentimes, the surgical guide comes with an accuracy report. The accuracy report clarifies the deviations of the positions of the actual sleeves in relation to the planned implant positions. SICAT guarantees a manufacturing deviation accuracy of 0.5 mm or less at the apical end of the implant.
SICAT provides you with a customized surgical guide report. An essential part of the report is the implant-specific depth specifications. The distances from the lower or upper end of the drill sleeve and to the apical end of the dental implant are noted. These distances are compared to the drill scale for the planning of implant placement and during the actual surgery.
THE LATEST DENTAL TECHNOLOGIES IN AN OFFICE THAT FEELS LIKE HOME
New dental technologies are just one feature that sets Wolfy Dental Group apart. We are always welcoming new patients and invite you to experience our difference in care for yourself. To schedule an appointment, call our Wallingford, CT office at (203) 902-3629 or request your appointment online today!