Teeth whitening in Wallingford, CT is the way to a sparkling smile
If you are looking for the best way to whiten your teeth, talk to your trusted dentist at Wolfy Dental Group in Wallingford, CT. Our professional teeth whitening system is more effective, longer lasting, faster, and safer than over the counter products. A single treatment lightens teeth an average of five to ten shades with immediate results.
WHAT TO EXPECT
We will begin with an examination and a discussion about your goals to determine the best treatment plan. If you are a good candidate for whitening, your dentist will probably recommend starting with professional teeth cleaning. This removes biofilm, allowing the formula to fully contact the tooth surface. For in-office treatment, we use a powerful formula, which is professionally applied for optimal safety. The results are visible immediately.
Teeth whitening is gentle and noninvasive, so there is no downtime or recovery period. However, the whitening process can make enamel more permeable. For the first couple of days after treatment, your teeth are susceptible to re-staining. To preserve your results, it is advisable to avoid dark colored foods and beverages for about 48 hours, and to rinse your mouth after meals.
EVEN DIVORCE ATTORNEY'S RELY ON THE DENTIST TO DAZZLE THEIR CLIENTS SOMETIMES!
Miles Massey's office! Hey it's me any messages? Yeah quite a few, where are you? Just whitening – they want a meeting today if possible. Mhmm what else? Chapman says his wife is now in Tahoe. Alright, tell him I will return in 20 minutes. Uh huh *incoherent speech* She said she took the kids to Tahoe? Wait which side of Tahoe? Yeah well if the cruise goes all the way around the lake she has left the state she is in breach, tell Wrigley to prepare a filing to attach. Mhmm everything primary, resident, beach house, ski cabin, auto stocks, bonds, – going to lose you! Uh huh, and tell Fred Armitredy that we have pictures of his wife with the oral surgeon, oh and get a fruit and pastry basket in the conference room for my 9.30, did not have time for breakfast this morning. Where are you? Coming at you! Your 9 o clock is here – Bonny Donnelly. *Checks teeth in mirror* Bonny Donnelly – Mrs. Donnelly
---

GLO SCIENCE PROFESSIONAL TEETH WHITENING
Patients can now enjoy the GLO Science Professional in-office whitening treatment at our practice which can brighten teeth up to 5 shades within one hour, with minimal sensitivity issues. GLO is also the only whitening system that combines the safe LED light and warming heat in a closed system mouthpiece for fast results.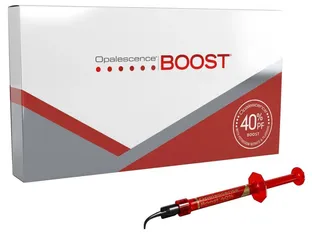 EFFECTIVE TEETH WHITENING USING ULTRADENT
The Ultradent Boost whitening treatment is an effective and long-lasting teeth whitening solution that is chemically activated. The whitening solution used is 40% hydrogen peroxide and has a high water content, making the gel comfortable for patients. Your dentist will activate the hydrogen peroxide formula using a unique double syringe right before application, making each dose fresh and effective.
WHAT CAN YOU ANTICIPATE FROM OPALESCENCE BOOST TEETH WHITENING?
Teeth tend to become less vibrant with age as discoloration and staining occur due to the natural aging process, tobacco use, and the consumption of certain foods and beverages. If you are looking to perfect your smile, teeth whitening is a great way to brighten your smile and improve your self-confidence.
Get brighter, whiter teeth in just one hour with OpalescenceTM BoostTM in-office power whitener.
Award-winning OpalescenceTM BoostTM in-office teeth whitening gel is a chemically activated gel and is the best way to whiten teeth quickly.
OpalescenceTM BoostTM is a vegan and gluten-free procedure that features:
· Teeth whitening gel improves your comfort with fluoride and potassium nitrate.
· Provides noticeable results within an hour.
· Is chemically activated, so you do not experience discomfort as you may with LED procedures or over-the-counter products.
To get started, your dental professional will determine a suitable shade for your teeth using a shade guide. As a precaution, you will wear protective glasses during the procedure.
A protective barrier prevents the whitening gel from irritating your gum, lips, and tongue.
OpalescenceTM BoostTM teeth whitening gel has a thick formula that prevents the gel from running, and its red color makes it easily visible to aid in precise placement and complete removal.
OpalescenceTM BoostTM is also formulated with at least twenty percent water content, which helps prevent dehydration and maximizes patient comfort and satisfaction.
You'll enjoy your whitening results in around one hour.
Each Opalescence teeth whitening kit is effective as a stand-alone teeth whitening treatment.
However, it can be combined with other products to create a customized take-home teeth whitening kit that meets each patient's needs.
Do you find this video valuable?
For more information contact Wolfy Dental Group
New Patients: (203) 902-3629
Existing Patients: (203) 265-3139
51 S Whittlesey Ave,
Wallingford, CT 06492
www.wolfydentalgroup.com
---
WHAT CAUSES STAINS ON TEETH?
Virtually anything you consume, or anything enamel is exposed to, has the potential to stain your teeth. However, some substances are much more likely to stain your teeth. These include:
Nicotine (from smoking or chewing tobacco)
Red wine
Coffee
Black tea
Red (tomato based) sauces
Berries
Food coloring
THE SALIENT DO'S AND DON'TS OF TEETH WHITENING – HERE IS WHAT YOU NEED TO KNOW!
Did you know?
Tooth whitening is a very effective way of lightening the natural colour of your teeth.
What is teeth whitening?
Tooth whitening lightens teeth and helps to remove stains and discoloration. Whitening is among the most popular dental procedures.
Would I need my teeth whitened?
Maybe you've always wanted a beautiful white smile, or your teeth have yellowed over time. Or you are not happy with the staining that results from food and drinks such as tea, coffee, red wine and blackcurrant. Smoking can also stain teeth.
How long will my teeth stay whiter?
With care tooth whitening can last 6 months to 3 years before it needs to be repeated from the same desired tooth shade. Avoiding habits that affect your tooth colour can increase the amount of time you will be able to wait between treatments.
How can I look after my teeth once they have been whitened?
Brush your teeth last thing at night and at least one other time during the day with the fluoride toothpaste. Avoid foods that can stain the teeth (coffee, tea, red wine, dark grape juice, coals, spaghetti sauces etc.) See your dentist for professional cleanings.
Did you find this video valuable?
For more information contact Wolfy Dental Group.
New Patients: (203) 902-3629
Existing Patients: (203) 265-3139
51 S Whittlesey Ave, Wallingford, CT 06492
www.wolfydentalgroup.com
---
IS TEETH WHITENING RIGHT FOR YOU?
If you have stains on your teeth and you want a brighter smile, then the answer is probably yes. However, sometimes the problem is not typical staining. For example, the stains are actually dark inclusions within the tooth, or the enamel has worn thin, allowing darker layers to show through. In these cases, whitening may not be effective. Porcelain veneers might be a batter option. Additionally, if you have old fillings or crowns that are darker than you would like, they would need to be replaced with lighter ones. Whitening only works on natural tooth enamel.
ARE YOU READY FOR A DAZZLING SMILE?
If you want to enjoy your brightest smile, call us at (203) 902-3629 and schedule a teeth whitening appointment